During your stay you can participate in excursions to Pompei, Tivoli, Cerveteri and Tarquinia

.


At 1 km from the camping you can visit the Botanical Gardens of S. Liberato (2nd in importance in Europe), where you can also admire the oldest bell-tower of the world.


We can also recommend a boat trip on the lake with the "traghetto", a visit to the Aeronautical Museum at Vigna di Valle (2,5 km), and the Castle of Bracciano, which is privately owned, but open to the public for guided tours.




Archaeology

: There are numerous Etruscan excavations: Tarquinia, Cerveteri, Barbarano, Veio, to name but a few, all within easy distance, and of course, ROME!!.


History: The fantastic Farnese Palace at Caprarola, the Cathedral at Orvieto, the artists-village Calcata, Oriolo Romano with its portrait-gallery of all the popes,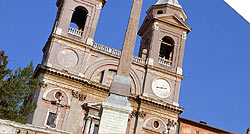 from S. Peter to Woytila, in the Altieri Palace, Viterbo with its beautiful medieval centre and the Papal Palace, the lovely old villages glued to the mountains, and of course, ROME!!

Nature: You can spend a day at the beautiful Mediterranean beach at only 35 km., or go to the Falls at Marmore (Terni), visit the "Treja Park", the forest reserves of Canale Monterano o Manziana, where in the "Bosco" they preserve the typical "macchia Mediterranea" (flora and fauna of the Mediterranean) and the "Caldara" which, with its geysers, looks like a Little Yellowstone Park, and whose sulphurous water and -mud is a cure for all kinds of skindiseases.